Lezsmeeting - Taiwan x Hong Kong / Divine Girls Party - early bird tickets
$

270.00
Sold out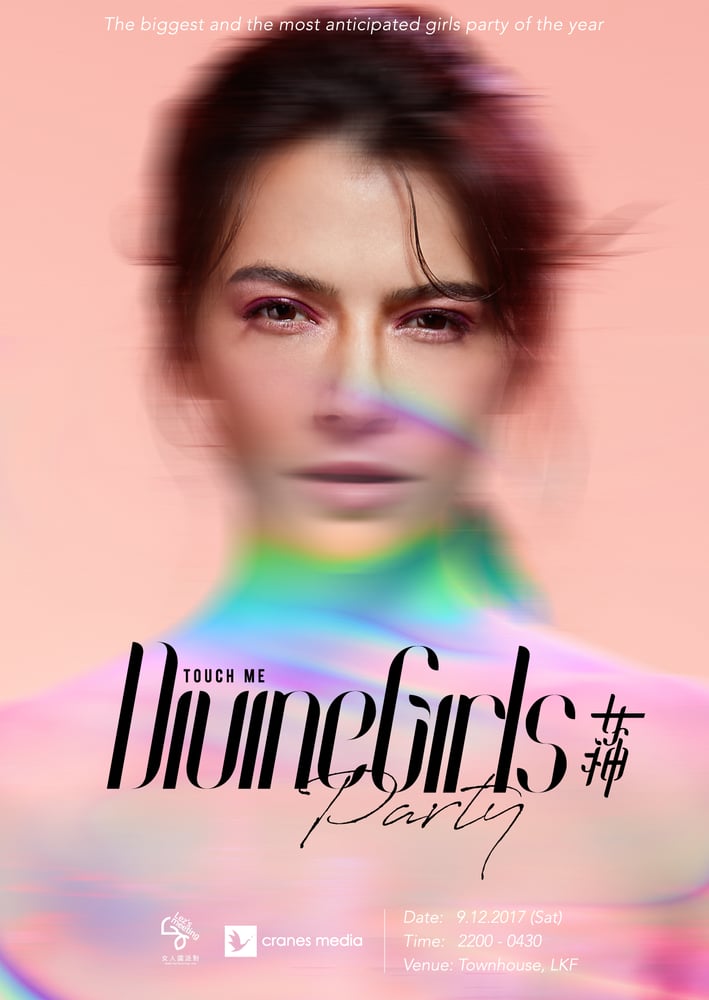 LEZSMEETING - LEZS RUN THE WORLD/ Taiwan x Hong Kong Round 3
DIVINE GIRLS Touch me PARTY
Originally from Taiwan and has become one of the most celebrated and the hottest party hosts – "LEZ'S MEETING" is bringing Hong Kong the biggest and the most anticipated Lesbian Party of the Year for the 3rd round!
Would you like to meet the Goddess that you have always been longing to connect?
Either you or she could be the Goddess of a potential one.
Be the confident one. Be that sensual one.
Be that charming one. Be her special one!
Date: 09.12.2017 (Sat)
Time: 2200-0430
Venue: Townhouse, LKF
23/F, California Tower, D'Aguilar, 32 D'Aguilar St, Central
Ticketing:
Early Birds:$270 (included 1 standard drink)
At the door:$320 (included 1 standard drink)
Dress Code:Glittery & Glamour
Special Promotion:
Receive the Premier VIP Table Package with any 10 tickets and a bottle purchasing! Limited offers only, get in quick!
*DJs:
22:00-00:00 DJ Candy Bee(TW)
00:00-02:00 DJ Stephanie(Germany & Honduras)
02:00-04:00 DJ BLING(HK)
------------------------------------------------------------------------------------------------------------------------------------
女人國 LEZS RUN THE WORLD/香港x台灣 第三站
Divine Girls/女神Touch Me Party~
台灣最大同志派對品牌-Lez's meeting女人國三度進港!
誰?是妳心中的女神?
而我們每個人都可以是自己的女神,
妳-擁有專屬的獨家魅力,讓人融化的個性,
妳-擁有閃亮的立體輪廓,因為自信自然散發光芒,
妳的魅力,因為自在而獨特迷人,
當妳相信這就是妳,
今晚,妳的女神將帶著滿載的愛與妳相遇,
在這萬變的不夜城,故事即將展開。
日期: 09.12.2017 (Sat)
時間: 2200-0430
地點: Townhouse, LKF
香港中環蘭桂坊德己立街30-32號加州大廈23樓
門票:
預售票:$270(一杯免費調酒)
現場票:$320(一杯免費調酒)
服裝: BlingBling女神風
*DJs:
22:00-00:00 DJ Candy Bee(TW)
00:00-02:00 DJ Stephanie(Germany & Honduras)
02:00-04:00 DJ BLING(HK)

特別優惠:
買十張門票+購買一瓶酒及贈送包廂一個(先訂先得 送完為止)
---------------------------------------------------------------------------------------------------------------------------------
Enquiry 活動洽詢:
香港:Anne(Whatsapp)+852-9728-6270
台灣:
AJ:(Whatsapp)+886-938133371
Joey:+886-938807885,Line ID:sunboyt
薇如:+886-927389927,Line ID:000polaris000
Information 活動資訊:
女人國官網:www.lezsmeeting.com/
女人國臉書: www.facebook.com/lezsyou/
Organisers 主辦單位:Lez's meeting、頤創藝、LEZS、Cranes Media
Sub-organisers:LEZO、LesVolt、Butterfly
Sponsors 贊助:LESDO、Hotelscombined、Taboocha、Basicsforbasics、Sallycoco、京木工匠、木工序
Media Partners: 媒體贊助:自己人、Jam Live、TB雙心日記、菊花台、Bubble Air、PrideLab、聯合新聞網udn
PR Sponsor 公關贊助 : Fenix Communications
Special Thanks to: 文藝女生、Amo Club